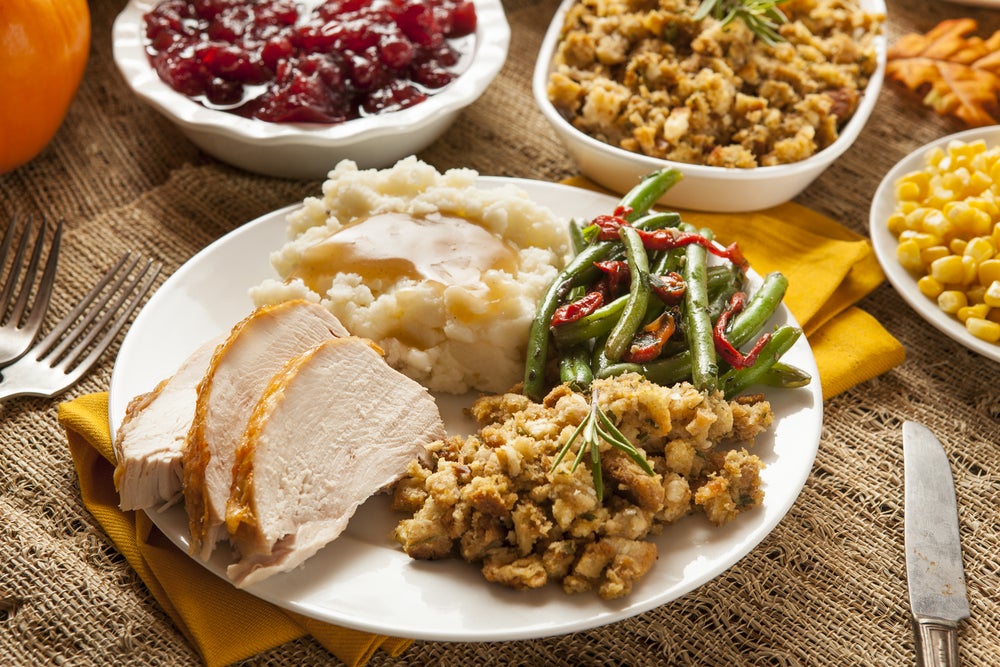 Thanksgiving is all about abundance, and I like to keep it that way—without breaking the bank that is. So I've carefully come up with recipes and tips for preparing a Thanksgiving dinner. The entire meal will please your appetite and will keep your wallet happy too. Now that's something to be thankful for!
Turkey: Turkey is usually about 40 percent of the cost of the meal. Save money by buying a store-brand frozen turkey (with a coupon) instead of a fresh turkey. Be sure to allow enough time to thaw the bird: one day in the fridge for every five pounds. Then do some research on how to prepare it and spice it up with flavor! Here is a super easy recipe for you first time turkey bakers out there!
Stuffing: Although it is probably more fun to make stuffing from scratch, I think it's easier to just buy it at the store and prepare it. My all time favorite stuffing is the Pepperidge Sage and Onion which you can buy from any grocery store. Instead of adding water though, I like to add chicken brother to give it a little more flavor.
Mashed Potatoes and Gravy: If you are crunched on time, there is nothing wrong with making boxed potatoes. These are cheap and can be made in just minutes. But, if you are looking for the real deal, check out this simple yet delicious recipe! Don't forget the gravy!
Green Bean Casserole: It's the dish everyone's expecting on the holidays, but it's so easy to make, you can serve it any day. What makes this green bean casserole so good?  A secret ingredient – cream of mushroom soup. Check it out here!
Corn: You can buy corn on the cob, canned corn or frozen corn. Whatever you decide, it's easy and quick to prepare! Just add a little butter, salt and pepper to give it some flavor and there you have it!
Dinner Rolls: Buy them in the package or make your own. Whatever the case, these are always great to add to your Thanksgiving dinner!
Deviled Eggs: These are one of my absolute favorite appetizers at Thanksgiving time. For those of you who are unsure how to make deviled eggs, click here for the recipe! I always like to add a little more mayo to mine to make them softer and sweeter.
Pumpkin Pie: What's Thanksgiving without pumpkin pie? I have yet to make my own pumpkin pie but I found a simple recipe online for you guys! Check it out here! Just don't forget to double up on the whipped cream!
Veggies: Veggies and dip are a good appetizer for everyone to snack on. Buy your favorite veggies (carrots, cucumbers, broccoli, cherry tomatoes), chop them up and spread them out on a platter for everyone to enjoy!
Cheese and Crackers: This is another great option for you and your guests to snack on before and during the main meal!
Tips:
Make It a Potluck: Don't be embarrassed to ask for help. People are happy to pitch in and bring a dish or two, and potlucks are trendy right now. Not only will it save you time and stress, but it will save you quite a bit of money as well!
Make a list and stick to it!: Without a plan for what you're going to serve for Thanksgiving dinner, you are likely to spend more money than you would with a set menu. Make a list and stick to your list in the grocery store. You'll save both time and money!
Use Coupons!  There's a reason millions of people use coupons – simply put, they're free money. After you've made up your menu, look through your local Sunday paper and clip coupons for any of the items on your list. For those of you who don't get the paper, you can go online to coupons.com or mycoupons.com to get coupons for your favorite Thanksgiving items!
Until Next Time,
Jessica M.